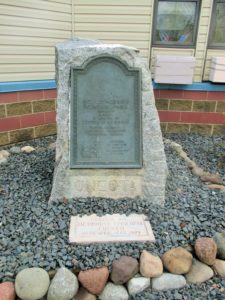 Asbury United Methodist Church is the oldest Methodist congregation in Duluth.
Methodism came to Duluth in May 1856 when Rev. James Peet paddled his canoe from Superior, WI, across to the Oneota neighborhood in West Duluth, near the site of the present Bong Bridge. Initially, Rev. Peet met with worshippers in their West Duluth homes. But after a short time, the congregation formed the L.F. Merritt Memorial Methodist Episcopal Church and constructed a church building at 46th Avenue West and West Michigan Street. The church was named in honor of its first pastor, Rev. L.F. Merritt, a member of the famous family that pioneered iron mining in northern Minnesota.
In June 1889, a second Methodist congregation was formed. The Asbury Methodist Episcopal Church building was at 61st Avenue West and Raleigh Street, not far from the current church location.
The merger of the Merritt and Asbury churches occurred in the fall of 1921. The Merritt building was moved to Central Avenue and renamed Central Avenue Methodist Church. The final service at Central Avenue was in April 1992.
In 1905, the Bethany congregation formed. Originally, this church was named the Second Norwegian Danish Methodist Episcopal Church. The building was at 65th Avenue West and Polk Street and remains there today. The congregation changed its named to Bethany Norwegian Methodist Church in 1909 when the building was dedicated. Bethany's final service took place in October 1989.
In the fall of 1989, the Bethany and Central Avenue congregations merged to form the present Asbury United Methodist Church. This congregation met and worshipped at the Central Avenue building until the new building was ready for occupancy in the spring of 1992. The stained glass window at the entrance of Asbury comes from the Bethany church. The three stained glass windows behind the altar at Asbury are from the Central Avenue church—and originally from the Merritt church.
The congregation broke ground for Asbury on June 23, 1991. The cornerstone of the building, which contains a time capsule, was laid in 1992. Rev. James Haun officiated at the first worship service April 5, 1992. He was succeeded by Rev. Paul Bosshardt in July 1992. Rev. Bosshardt became the United Methodist Church's District Superintendent in 2000, serving until he retired in 2007. Rev. Sharon K. R. Osborn served as Asbury's pastor from July 2000 through July 2010. Rev. Kathleen S. Zielinski succeeded her and served from July 2010 through July 2012. Rev. Cindy M. Rasmussen is the current Asbury pastor.